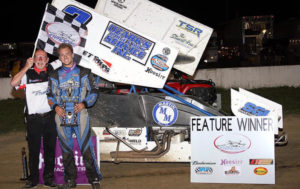 GRAVOIS MILLS, Mo. — For many years the Gennetten name has been prominent in open wheel racing throughout the state of Missouri. 20 year old, Gravois Mills native Ayrton Gennetten is continuing the legacy set by his grandfather and father.
"My grandpa Gene was a legendary midget driver and car builder in Kansas City and is inducted into 4 or 5 hall of fame's so obviously it's pretty cool to have his last name and race under the family tree there and then have my dad Steve who did a lot in winged sprint car stuff. Both of them have a USAC midget win which is pretty cool"
Gennetten got his start racing go karts at a young age before transitioning to micro sprints.
"I started racing go-karts when I was 5 and then I moved into micro sprints at 11 and this will be my fourth year in the sprint cars. In the go karts we've gotten some pretty big wins there and then we moved into micros and we had a 3rd place in POWER I points in 2015, we've won the 'High Banks Hustle' preliminary night, we've won the Tulsa Shootout"
In his 4th season driving his family owned No.3 sprint car Gennetten is racing 360's as well as transiting into 410 sprint cars.
"Whenever you first move into a 410, which is kind of what we've done this season our goal is just to make Outlaw shows. We made both of them (World of Outlaw features) at the Lake Ozark Speedway earlier this season and then we went to Haubstadt, Ind. and made both Outlaw shows there so we had some pretty good momentum going and we then we went over to Burligton, Iowa and were running for a top 10 spot there, which is really good. Then at Terra Haute (Indiana), we were really rolling and were inside the top 5 and I thought we had a car that we could run inside the top 3 and with those guys its pretty hard to do. We got the 2 wins in the 360 both at Moberly this season and in the 360 we've only had 1 race outside the top 10 all season"
As Gennetten's sprint car career is off to a great start his childhood dreams continue to drive him.
"You're goal is to become a professional sprint car driver and make a living doing it. My goal in life has always been to become a World of Outlaw Champion so hopefully one day we can fill the goal of becoming a World of Outlaw Champion and get some World of Outlaw wins"